A quick-start guide to public transport in Hong Kong
Published

Written by

Chun Fei Lung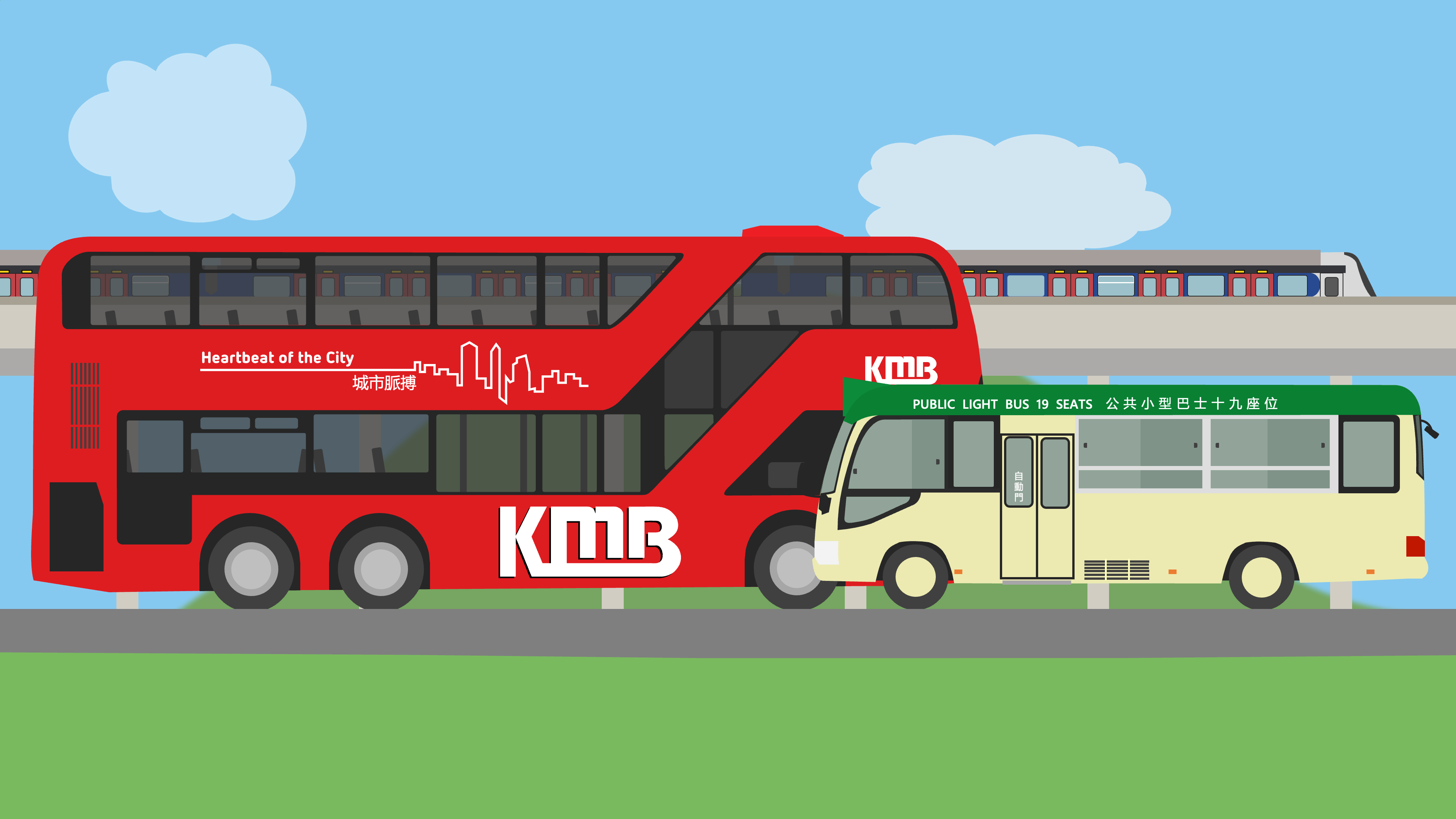 Public transport in Hong Kong is basically as good as it gets. Coverage is extensive, many routes operate 24/7(-ish), fares are affordable, and many larger stations have free restrooms and other amenities.
If you're visiting Hong Kong and intend to make more than two trips, it's probably a good idea to get an Octopus card (八達通); not only does this card make it much easier to get around Hong Kong, you also become eligible for interchange discounts when you transfer between certain buses and trains.
Speaking of which, let's have a look at the various modes of transport that you can choose from as a traveller in Hong Kong!
The metro is the quickest way to get around Hong Kong. The network, operated by the MTR Corporation, is fast, vast and efficient. The same can be said about its stations, which are often directly attached to gargantuan shopping malls. You might not want to stay home in Hong Kong because all apartments are ant-sized, but if – for whatever reason – you don't like going outside, the MTR's network of stations and malls enable you to go outside while still staying indoors.
Fares on the MTR are sectional, which means that they're mostly based on distance. Each MTR station has both a free and a paid area. The free area usually has some small shops, ATMs, and an information kiosk. The paid area provides access to the platforms, and can be entered and exited by tapping an Octopus card on the reader.
Hong Kong has two types of trams. If you're in Hong Kong for a short visit, you should ride both at least once.
Hong Kong's iconic double-decker trams have been running across Hong Kong Island since 1904, which makes them one of the earliest forms of public transport that are still active in the territory. The trams run frequently – you'll rarely have to wait for more than two minutes – and , which makes them a popular choice not only among tourists, but also among commuters who rely on the trams to get to and from work every day.
To board a tram, enter in the back and scan your Octopus card. Fares are fixed, so there is no need to scan your card when exiting the vehicle (which confusingly is done at the front of the vehicle).
The Peak Tram is a so-called funicular railway that brings you all the way from Hong Kong's Central district to The Peak, a tourist trap that's built on top of Victoria Peak, the tallest hill on Hong Kong Island. The trains aren't authentic and The Peak itself is mostly just a few shopping malls with some overpriced restaurants, but the amazing views over Hong Kong still make it worth a visit.
If you want to ride the Peak Tram you'll have to purchase an old-fashioned ticket; Octopus cards are not accepted. Alternatively, take the bus from Central or simply hike your way to the top via one of the hiking trails.
Regular bus services in Hong Kong are operated mainly by two companies under various names. Kowloon and the New Territories are covered by the Kowloon Motor Bus Company (KMB) and Long Win Bus (LWB), while Hong Kong Island is served by New World First Bus and Citybus. Additionally, the MTR Corporation runs a few feeder bus lines for its metro network. Virtually all buses are doubler-decker vehicles.
The fare system for buses is a bit of a mess, but if you're in Hong Kong for a few days only this is all you need to know: . When the bus arrives, enter through the front door and tap your Octopus card on the scanner when you pass the driver. Routes are divided into sections. The fare that is deducted from your card is determined by the number of sections that are left until the buses reaches its final destination. It doesn't matter whether you disembark after just one stop or ride the bus all the way to the last stop.
Technically there's no need to tap your card again when you leave the bus, but it's possible to get rebates on certain routes and sections if you do this. You generally don't want to do this though unless you're strapped for cash, because the only scanner is next to the driver, which can be very hard to reach – especially when the bus is crowded.
Public light buses (or minibuses) are used to serve areas that cannot be reached efficiently by regular bus services, e.g. due to the size of the buses, lower population density or tight corners. Most minibuses are Toyota Coasters that carry at most 16 or 19 . Each minibus is equipped with a speedometer in order to "encourage" the driver to stay within the speed limit.
I should say that I'm not sure if it's a good idea to ride minibuses as a foreign visitor, because minibuses are weird. For one, there are two types of minibuses, which are .
Green minibuses simply operate scheduled services like their larger siblings. A minibus can be hailed by waving at it and/or signing how large your party is by holding out your fingers. A minibus will only stop if it has enough free seats. If it does, enter the bus and tap your Octopus card on the scanner to pay the (sectional) fare. There's no bell on most minibuses, so just shout at the driver in Cantonese if you want to get off at the next stop.
Although red minibuses are visually similar to green minibuses, they are more like share taxis, in the sense that they're not scheduled and can technically go almost everywhere they want. In practice, most red minibuses run on semi-fixed routes and often . Another important difference is that red minibuses rarely accept Octopus cards and require cash payments when you alight.
Hong Kong has more than 250 islands, most which are only reachable by boat. A few of the larger islands, like Cheung Chau, and destinations across the Victoria Harbour are served by the iconic Star Ferry, which – like the Hong Kong Tramways – is just as much a form of public transport as it is a tourist attraction. The ferries offer good views of their surroundings, although it comes at a price: the godawful smell of diesel fumes.
Fare prices differ per route, but are generally fairly low. Each destination that is served from a pier has its own turnstiles. Look for the Octopus-enabled turnstiles and tap your card to board the next ferry.
Last but not least: light rail.
Light rail is a popular method of transport in many cities, but not in Hong Kong. As a visitor you're unlikely to ever set foot on Hong Kong's light rail trains, which serve the .
Journey prices are determined by the number of stops. Scan your Octopus card at an orange entry processor before entering the platform. This will deduct the maximum fare from the card. Once the destination is reached, the card needs to be scanned again at a dark-green exit processor, at which point the difference between the maximum and actual fare is refunded.